NYC
Venues We Relish
Host your next event at one of our unique New York City event venues. We are the exclusive and in-house caterer to some of New York City's most iconic event spaces for 50 to 2000+ guests. Featuring a wide range of options, from lofts and photo studios to formal ballrooms, Broadway theaters, mansions, rooftop gardens, boats and large-scale outdoor event spaces, let us assist you in finding the perfect venue for your event. Our experienced event planning team has the knowledge and access to accommodate your event style and needs.
Exclusive Venues
Celebrate at Snug Harbor

One of New York City's most unique wedding venues is Celebrate at Snug Harbor, a cultural center and botanical garden in Staten Island. With magnificent architecture, lush natural landscapes and artisanal cuisine, the 83-acre campus features an array of impeccably stylized locations. Stroll through the Tuscan Garden, Rose Garden, Hidden Garden, White Garden and New York City's only Chinese Scholar Garden.

Oasis at 437 Madison Avenue

Oasis at 437 Madison Avenue by SAGE invites you to experience its stunning, turnkey event venue, featuring an array of dynamic spaces designed for maximum engagement. Immerse yourself in two formal conference spaces with breakout areas, a beautiful terrace and library, or relax at the cozy bar – all waiting to be explored!

Oasis at 767 Third Avenue

A reimagined Workplace experience has been delivered to the Grand Central Business District. Workstyle that matches your lifestyle – Work and play, board meetings to happy hours. Oasis defines your ideal work-life balance while providing you with another turnkey event venue by SAGE.

No. 2 East 90th

No. 2 East 90th is a gem located on Museum Mile on the Upper East Side, set between the Guggenheim and the Cooper-Hewitt Garden. The spaces here are perfect for all occasions, large and small, including concerts, meetings, art shows, fundraisers, classes, holding companies, school graduation ceremonies, panel discussions, and receptions of all kinds.

Bathhouse Studios

Relish Catering + Hospitality is pleased to partner with Bathhouse Studios, to exclusively power the Bathhouse Bar, offering elevated bar experiences, customized visuals and presentations. This multi-level space with beautiful modern Japanese architecture paired with the sun-drenched open floor plan is the perfect space for marketing events, experiential activations, cocktail parties, weddings, and more!

Irving Plaza

The historic Irving Plaza accommodates up to 1,100 guests over 6 different spaces, this fully restored venue is ready to host your next meeting or private event. While maintaining the venue's 19th-century charm. This spacious venue will exceed expectations!

Gramercy Theatre

Gramercy Theatre is a rarity among NYC's mid-sized music venues with a mix of fixed and flexible reception spaces. Located approximately 2 miles from the Javits Center, Gramercy Theatre has access to the world's greatest musical entertainment, full-service event production, state-of-the-art lighting and sound with 5,500 sq. ft. shared between two unique spaces.
Preferred Venues
The Graduate Center at CUNY

Located in a landmark building, this venue offers various spaces to accommodate a multitude of events. From small conference meetings to a performance or video screening, The Graduate Center is flexible and has a space to suit your event needs.

TwoFortyThirty

TwoFortyThirty is New York City's First Event-Industry Creative Hub. A shared work & event space where you can be a part of a collaborative event family. There are endless possibilities for teamwork, partnership and shared experiences when the most creative people share the same space every day.

Lavan541 Chelsea

Lavan541 is an iconic, exceptional and unique event venue, located in the heart of Chelsea. It's cutting edge amenities and production capabilities bring innovation to the event industry.

Lavan641 Midtown

Lavan641 Midtown is an iconic, and unique event venue, located in the heart of Midtown New York.
This luxurious ground floor event space was established exclusively for private and social events, weddings, product launches, corporate events, art exhibits, fundraisers and charities, private concerts, fashion shows, press events, and so much more!

Hall des Lumières

Art meets technology. Hall des Lumières is a multi-sensory experience powered by video canvases that reflect onto the walls and doors. Choreographed to sound and light and set amongst the backdrop which completely transforms the historic venue.

The Altman Building

The Altman Building provides event services at a landmark historic venue. This space is a versatile private event venue with 14,000 sq. ft. over two floors. This space is column-free, providing unparalleled flexibility in event production. The Altman Building is an elegant, memorable and exciting venue to host events from small intimate gatherings to large-scale galas.

Fifty Four

With 4,500 sq. ft. of newly designed event space, centrally located in the heart of Manhattan, Fifty Four offers the ideal setting for your next corporate event, cocktail reception or holiday party.

Manhattan Center

Conveniently located on West 34th Street between 8th & 9th Avenues, the Manhattan Center is home to the Hammerstein Ballroom and Grand Ballroom, as well as television and recording studios, the Bank Space, and the Wyndham New Yorker Hotel.

Center415

Center415 offers 30,000 square-feet of open event space divided over two floors. The venue features high ceilings up to 18-ft. and can accommodate multiple cars on the ground floor. This venue is ideal for product launches, galas, fashion shows, upfronts, conferences, and more.

Project Farmhouse

Project Farmhouse is a state-of-the-art sustainability center and event space that allows New Yorkers to explore environmental issues through the lens of food, horticulture, arts, and more. Operated by GrowNYC and steps from their iconic Union Square Greenmarket, Project Farmhouse hosts workshops, galas, speakers, community meetings, and interactive exhibits.

Central Park Zoo

In the heart of Manhattan, Central Park Zoo is one of the most idyllic locations in New York City. This unique, outdoor event space offers sophistication and character that is perfect for both cocktail receptions and seated dinners. This open space has the flexibility to accommodate a variety of event layouts, guests will be inspired by the exotic wildlife and breathtaking city skyline views.

216 Lafayette

216 Lafayette offers 8,000 sq. ft. shared between two floors. The building itself was built in 1900 and originally home to a New York City factory. Fast forward over 120 years, the building has maintained some of it's incredible original details including exposed brick, towering ceilings, and multiple skylights.

Iron23

Iron23, offers 17,000 sq. ft. of open event space in the heart of the Flatiron District. The venue features high ceilings up to 17 ft. with a VIP loft overlooking the grand ground floor level. Iron23 is the perfect venue for fashion shows, conferences, galas, upfronts, premiere after-parties, and more! This space also offers unique branding opportunities of well-trafficked street-level frontage.

The House of the Redeemer

The House of the Redeemer is a wonderful space to host a retreat or special event. Its Italian Renaissance interior is a unique setting of elegance and charm. The House lends itself well to retreats for breakfast meetings, concerts, private parties, wedding receptions, and non-profit or corporate events.

Sixth Floor Loft

The Sixth Floor Loft offers a 1,200 sq. ft. versatile, customizable space that is fully-furnished and ready for your next event. From rehearsal dinners, engagement parties, and cocktail hours, to press events, the venue is equipped with AV capability, on-premise bathroom, and prep area. It is home away from home and perfect to host your next event.

Hudson Mercantile

Hudson Mercantile has 11,000 sq. ft. of three unparalleled unique spaces: the Gallery, the Studio and the Roof, each with its own distinguishing characteristics yet complimentary for a multi-level event. The Gallery offers 25′ ceilings and white walls, suitable for fashion shows and cocktail receptions. The Studio has 6,000 sq. ft. of raw white walls waiting to be transformed into the perfect event.

630 Second

In the shadow of the Empire State Building, 630 Second has more than 12,000 square feet of space that can be transformed to meet the needs of your event. This space includes a grand ballroom (complete with a performance stage), a large meeting room, and two smaller meeting rooms.

74Wythe

74Wythe offers four unique spaces with over 15,000 sq. ft. of hospitality spanning between three stories, and unlimited configurations, designed to both support a growing community and host a variety of private events.

Studio 525

Studio 525 is a luxurious event venue that combines the flexibility of a white box space with the warmth of authentic historic details. 525 aims to realize the full potential of events – diversity and inclusion within every race, gender, age, socioeconomic status, sexual orientation – to drive a new era of participation in social consciousness through fashion, arts, entertainment, design and celebrations.
Venues We Love
The Glasshouse

The Glasshouse is newly completed preeminent private event space in NYC. Their accommodating approach, versatile design, and unmatched infrastructure allows for elevated planning creativity, guest service, and contemporary experiences. The Glasshouse offers a unique ability to host imaginative, impactful, and engaging next level events, all tailored to your needs.

Glasshouse Chelsea

Glasshouse Chelsea has two beautiful floors featuring floor to ceiling windows, spectacular water and city views, outdoor terrace, built in production infrastructure and catering kitchens.

RiseNY

Soar above Times Square and celebrate NYC in a completely new way. RiseNY is conveniently located in the heart of Times Square within walking distance of the Theater District and New York City's top hotels and attractions.

Above The Heights

Above The Heights is a newly built 13,000+ sq. ft. event space in Upper Manhattan's premier 23-story mixed-use tower. Located on the 12th floor with two outdoor terraces with unobstructed views of the Manhattan skyline and George Washington Bridge, and not to mention incredible sunsets and twinkling city lights as your backdrop.

Lume Studios

LUME studios is an experience design studio at the intersection of art & technology creating the foundation to build and activate unparalleled immersive experience across 3,400 sq. ft. The Immersive Studio offers cutting edge technology, transforming the space to achieve any aesthetic or experience.

548 West

548 West 20,000 sq. ft. of newly renovated space ideal for a multitude of clients. 548 West's industrial architecture details boast with 15ft. to 18ft. ceilings amongst four floors, and a rooftop with a beautiful view.

Duggal Greenhouse

The Duggal Greenhouse is an exceptional custom event venue located in the Brooklyn Navy Yard. This iconic, raw venue is suitable for all types of events, including private functions, live events, fashion shows, product launches, movie and commercial production, and rehearsal space.

Metropolitan Pavilion

New York City's Premier Loft Style Event Venues
Located in Manhattan's renowned Chelsea neighborhood, Metropolitan Pavilion offers unique loft spaces for events anywhere from 20 to 1,500+ guests. Amongst four floors, each space is a versatile and inviting variation of the quintessential New York loft style, easily transformed into any atmosphere you require. 

Penthouse 45

Penthouse 45 is a unique event space with awe inspiring panoramic views of New York City and the Hudson River. The perfect venue for corporate gatherings & meetings, private receptions, product launches, film screenings, photo shoots, and more.

Terminal 5

Terminal 5 is a multi-level music venue with five distinct rooms, large capacity and a open-air roof deck. This venue is ideal for not only concerts but product launches, galas, upfronts, and more.

Webster Hall

Webster Hall returns with a sleek make-over with over 130 years of storied history. The new renovations preserve the iconic features of the venue while modernizing the space to meet today's entertainment standards. Transform your special event into an experience, the design detail and iconic features create for the perfect social event, corporate meeting, awards show, gala, concert, or charity fundraiser.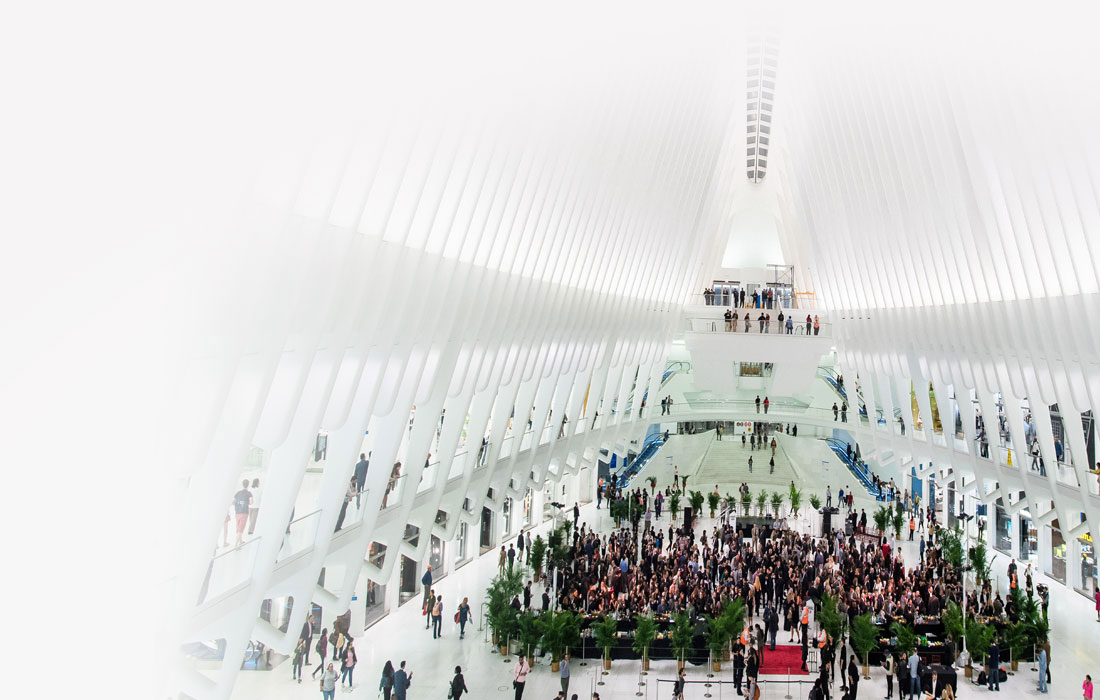 If you are flexible with date preferences, you can plan three to 12 months in advance. If you have a set date in mind that cannot be moved, plan a minimum of 12 months in advance.
Need an Expert Opinion?
We're ready to help.
Contact us