Check out these easy at home center pieces and table top ideas to add some elegance and warmth to your dinner parties, wine tastings, or holiday gatherings. 
Similar to the "Popcorn Keneral Candles" we shared with you last month, this centerpiece is a unique way to use some food items you may already have in your cupboards. Buy a candle that will fit into your cynical container leaving about ½ an inch from the glass all the way around. Simply slide a cookie stick around the candle, leaving no gaps. To finish it off, wrap twine at least 4 times around the glass and tuck the end into place, or tie a bow. You could also change this look a bit by trying it out with candy cane sticks and red ribbon on the outside!
http://designdininganddiapers.com/2012/05/simple-tips-for-decorating-on-a-budget/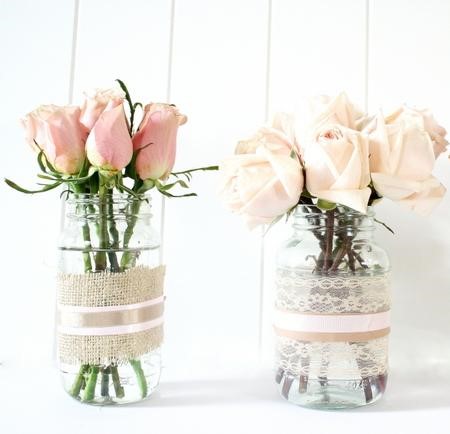 This elegant centerpiece is the ultimate "reuse" project! You are going to need some old jars, long stem flowers, lace, and ribbon. Assemble the band for the jar before attaching it to the jar. When using one width strip of lace, find a decorative ribbon that matches with the party's colors and hot glue it onto the middle of the lace strip. When using two smaller strips of lace, glue the edge of both lace strips onto the sides of your favorite ribbon. One the band is assembled, just glue the edges onto the jar and let dry. Feel free to mix it up a bit and alternate ribbons and/or widths of lace strips.
http://designdininganddiapers.com/2012/05/simple-tips-for-decorating-on-a-budget/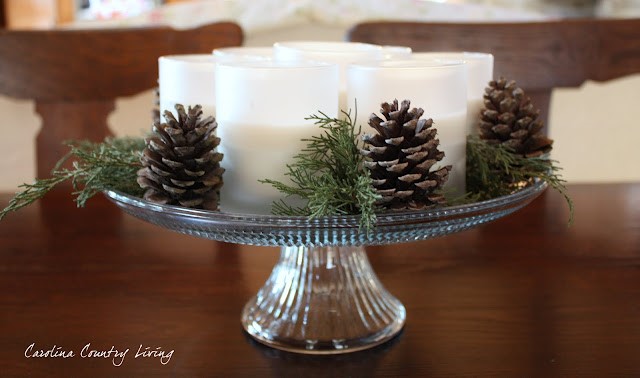 Comfort, warmth, and elegance, and nature are all wrapped up in this simple centerpiece. You do not have to use your fancy cake stand for this, buy a cheap one from a local store (as long as it has a nice foot to stand on!). Place a cluster of candles around the center of the stand by making a small circle around one candle placed in the middle of the stand, using about 7 candles in total. These candles can be in holders, or not, it is up to you! Alternating between one large pine cone and a piece of evergreen, place the decoration alongside the corners where each candle meets another candle.
http://carolinacountryliving.blogspot.com/2011/01/simple-winter-centerpiece.html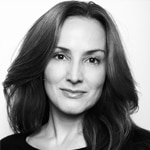 by Claudine Revere
on
Share this post