Martha Stewart's Zucchini, Banana and Flaxseed Muffins recipe is one you won't want to pass up! We love being inspired by other's recipes.
Zucchini, Banana, and Flaxseed Muffins
Recipe and photo credit: http://www.marthastewart.com/851872/zucchini-banana-and-flaxseed-muffins#Zucchini%20and%20Summer%20Squash%20Recipes%7C/275750/summer-squash-and-zucchini-recipes/@center/276955/seasonal-produce-recipe-guide%7C851872
 
Ingredients
Nonstick cooking spray

1 3/4 cups all-purpose flour (spooned and leveled)

1/2 cup ground flaxseed

1 cup lightly packed light-brown sugar

2 teaspoons baking soda

1 teaspoon baking powder

1/2 teaspoon coarse salt

1 teaspoon ground cinnamon

1 1/2 cups coarsely grated zucchini (from 1 large zucchini)

1/3 cup mashed ripe banana (from 1 large banana)

3/4 cup whole milk

1 large egg, lightly beaten

1 teaspoon pure vanilla extract
Directions
Preheat oven to 350 degrees. Lightly coat 12 standard muffin cups with cooking spray. In a large bowl, whisk together flour, flaxseed, brown sugar, baking soda, baking powder, salt, and cinnamon. Add zucchini and banana and stir to combine. In a small bowl, whisk together milk, egg, and vanilla. Add milk mixture to flour mixture and stir until combined (do not overmix).
 
Divide batter among muffin cups. Bake until a toothpick inserted in center comes out clean, 20 to 25 minutes. Let muffins cool completely in pan on a wire rack, about 30 minutes.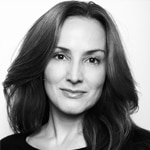 by Claudine Revere
on
Share this post