Savory Cheesy Biscuit recipe by Curtis Stone! Check it out below – We love being inspired by other's recipes.
Curtis Stone's Cheesy Biscuit Recipe
Recipe & Photo credit: http://www.curtisstone.com/recipe/cheesy-biscuits
Ingredients
2 cups all purpose flour

5 teaspoons baking powder

1 teaspoon baking soda

1 teaspoon salt

1/2 cup grated sharp cheddar cheese

4 ounces cold goat cheese, coarsely broken into chunks

5 tablespoons cold unsalted butter, cut into pieces

1 cup plus 2 tablespoons cold buttermilk

4 tablespoons melted unsalted butter

1/4 cup (1/2 ounce) finely grated Parmesan cheese
Directions
Preheat the oven to 450°F and place a 10-inch cast-iron pan in the oven to preheat.
In a large bowl, whisk the flour, baking powder, baking soda, and salt to blend. Using a pastry cutter, cut the cheddar cheese, half of the goat cheese, and 4 tablespoons of cold butter into the flour mixture until the butter resembles small pea-size pieces.
Form a well in the center of the flour mixture and pour the buttermilk into the well. Stir just until the mixture is moistened but still lumpy. Fold in the remaining goat cheese.
Remove the cast-iron pan from the oven and melt 1 tablespoon of butter in the pan. Drop 6 mounds of dough into the hot pan, spacing evenly apart. Brush the tops of the biscuits generously with some of the melted butter.
Bake 10 minutes. Brush with some of the remaining butter and continue to bake until golden brown on the top and the bottom, about 10 minutes longer.
Remove the pan from the oven then brush the biscuits with the remaining melted butter and sprinkle with the Parmesan cheese. Cool slightly.
Notes
Make-Ahead: These biscuits are really best when eaten warm from the oven. However, they can be made up to 1 day ahead, stored airtight at room temperature. To rewarm, wrap them in foil and bake at 350°F for about 10 minutes.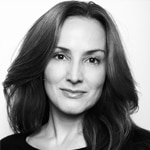 by Claudine Revere
on
Share this post