The workforce – and overall work culture – has changed in large part due to the pandemic. The power dynamic between employees and employers shifted drastically – not so much about power but expectations. There was a time when employees stayed with one company their entire adult lives; now, employee retention has declined, with many not staying a full year with companies. "Loyalty" is no longer a priority as people want to explore more meaningful work, start their own businesses, or simply prioritize personal commitments (family, relationships, mental health, passions, etc.) over careers. Companies are working hard to address record low satisfaction rates by working to meet the needs of their employees across all life stages as well as in diverse areas.
Let's be real – the holistic health of everyone post pandemic is on the decline. We are all looking for ways to protect and support our mental and social well-being. And companies are trying to assist in this through a variety of benefits and policies that make employees central to the office experience. The office is now competing with home, now seen as the more desirable work option. Employers are working hard to exceed employee expectancies in the office to improve workplace satisfaction and performance, and to make IT the more attractive work option. This clear objective has transformed the traditional benefits packages.
According to teambuilding.com, the benefits/perks most offered now are:
Workspace revamps
Childcare benefits
Commuter benefits
Professional development opportunities
Pet stipends (some people have furry children)
Free meals
Casual dress code
Pop-up events
Hybrid work schedules
Wellness perks
Daily errands
Personalized employee rewards
Grocery stipends
Care packages
Paid time off
New technology
Relish Workplace Dining recently held a tasting with a potential client. A full day of services – breakfast, lunch, and a happy hour. The Facility manager warned that people will probably grab and go throughout the day, that they normally sit at their desks to eat. That the happy hour would be sparse, as folks would maybe stop in for a quick bite before leaving to go home. The opposite happened. During each service, employees sat with each other, eating, drinking. They talked about work, brainstorming between bites of paella, and about life over wine and green chickpea hummus with pita chips. Our staff was told by more than one employee that this is not the norm, but that it was a welcoming change, something they would continue to do if offered daily. An easy perk to entice people back to the office and one that Relish is willing and able to facilitate for whoever needs us.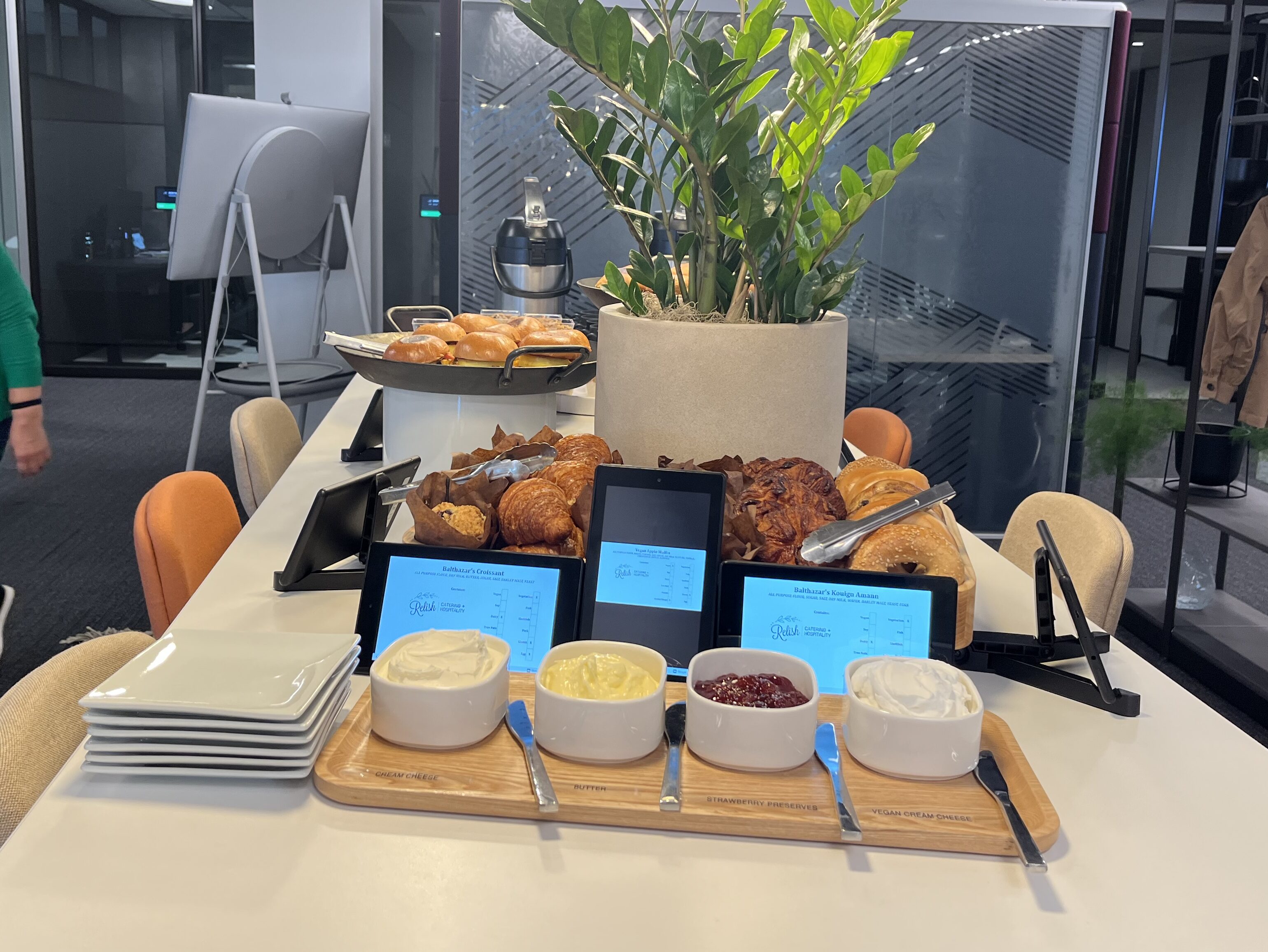 Follow us!

by Bel Thompson
on
Share this post