Martha Stewart's very own Strawberry and Apricot Crisp with Pine-Nut Crumble. If you ask us, this is the perfect holiday party dessert!
Strawberry and Apricot Crisp with Pine-Nut Crumble
Recipe & Photo Credit marthastewart.com
Ingredients
Crumble:

1/2 stick cold unsalted butter, cut into small pieces, plus more for baking dish

1/2 cup packed light-brown sugar

1/3 cup all-purpose flour

1/2 cup old-fashioned rolled oats

1/4 teaspoon ground cinnamon

1/8 teaspoon coarse salt

2 ounces pine nuts, toasted (1/3 cup)

Filling:

4 apricots, pitted and cut into sixths (about 2 cups)

12 ounces strawberries (about 15), hulled and halved, or quartered if large (about 2 1/2 cups)

1/2 cup sugar

2 teaspoons fresh lemon juice

1 teaspoon cornstarch

Pinch of salt

Serving

1 pint strawberry ice cream
Directions
Combine all crumble ingredients in a medium bowl and massage together with your fingers until butter is incorporated and mixture forms small clumps. Refrigerate until mixture is cold, at least 30 minutes and up to overnight.
Preheat oven to 350 degrees. Butter a 9 1/2-inch shallow round baking dish or pie plate. Combine all filling ingredients in another medium bowl. Transfer to baking dish and top with crumble. Bake until bubbling in center and crumble is browned, about 40 minutes. Let cool at least 20 minutes. Serve warm or at room temperature with ice cream.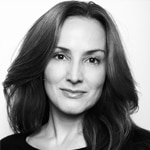 by Claudine Revere
on
Share this post