Shrimp Salad courtesy of Food and Wine. This dish has a little bit of everything and we are loving it!
Shrimp Salad with Hominy, Arugula and Lime
With similar ingredients you'd find wrapped up in taco, this brightly colored shrimp salad is light but very much satisfying. Enjoy with chips and beer on a hot day.

Recipe and Photo Credit: http://www.foodandwine.com/recipes/shrimp-salad-hominy-arugula-and-lime
Ingredients
VINAIGRETTE

1/4 cup lime juice

2 tablespoons orange juice

1/2 tablespoon shallots, minced

1 clove garlic, minced

1 teaspoon cumin

1/4 teaspoon cayenne

1 teaspoon honey

1/2 teaspoon salt

1/4 cup plus 1 tablespoon extra virgin olive oil

Freshly cracked black pepper

SALAD

1 tablespoon of olive oil

3/4 pound shrimp, peeled and de-veined

1 29 oz can hominy, rinsed and drained

3/4 pound cherry tomatoes, halved

1/2 cup cilantro, finely chopped

1 avocado, quartered and thinly sliced

3 ounces crumbled cotija cheese

4 cups baby arugula, packed

Salt

Lime wedges
Directions
In a mixing bowl, whisk the citrus juices, shallots, garlic, cumin, cayenne, honey and salt together until combined. Slowly drizzle in the olive oil in a thin and steady stream until the dressing becomes emulsified. Taste and adjust with salt and pepper and set aside.
Pat dry and season peeled and deveined shrimp on both sides. In a large saute; pan over medium-high heat, add 1 tablespoon of olive oil to the pan, heat for a minute or so, and drop in the shrimp. Cook for about 1-2 minutes on each side until shrimp are pink and slightly fried. Take off heat and transfer to a large mixing bowl. Add the hominy and sliced tomatoes to the mixing bowl and pour in half of the vinaigrette. Toss to coat and let sit for a few minutes.
Meanwhile finely chop the cilantro, thinly slice the avocado, and crumble half of the cotija cheese. Add the prepped ingredients to the shrimp and hominy mixture and fold in the arugula. Pour in the remaining vinaigrette and toss to coat. Season the salad generously with kosher salt and a squeeze of lime juice.
Transfer salad to a serving platter, sprinkle with the remaining cheese, and serve.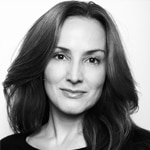 by Claudine Revere
on
Share this post