Grilled Pork Porterhouse with Peach Agrodolce
Recipe and photo credit: http://www.myrecipes.com/recipe/grilled-pork-porterhouse-with-peach & http://www.myrecipes.com/recipe/peach-agrodolce
Ingredients
Peach Agrodolce:

2 tablespoons raisins

2 tablespoons tawny port wine

1 tablespoon chopped fresh parsley

1 tablespoon balsamic vinegar

1 tablespoon olive oil

2 large fresh, ripe peaches, peeled and diced into 1-inch pieces

Salt and freshly ground pepper

Grilled Pork Porter House with Peach Agrodolce:

4 (1 1/2-inch-thick) pork porterhouse chops (about 2 1/2 lb.)

1 tablespoon olive oil

3/4 teaspoon kosher salt

1/2 teaspoon freshly ground pepper

Peach Agrodolce
Directions
How to Make the Peach Agrodolce:
Cook raisins, port, and 2 Tbsp. water in a small saucepan over medium heat, stirring occasionally, 5 minutes.
Remove from heat; whisk in parsley, vinegar, and oil.
Stir in peaches and salt and pepper to taste.
Grilled Pork Porter House with Peach Agrodolce:
Let pork stand at room temperature 30 minutes. Light one side of grill, heating to 350° to 400° (medium-high) heat; leave other side unlit. Brush pork with olive oil, and sprinkle with salt and pepper.
Grill pork over lit side of grill, covered with grill lid, 4 minutes on each side; transfer pork to unlit side, and grill, covered with grill lid, 10 minutes on each side or until a meat thermometer registers 150°. Let stand 5 minutes. Arrange pork on a serving platter, and top with Peach Agrodolce.
Notes
Agrodolce (agro: sour; dolce: sweet), a traditional Italian sweet-and-sour sauce made with vinegar and sugar (or sweet ingredients such as fresh peaches and raisins), adds fresh summer flavor to the granddaddy of all pork chops. Thick-cut pork porterhouse includes a juicy portion of the tenderloin on one side and a large cut of the loin on the other.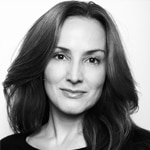 by Claudine Revere
on
Share this post